Ship restaurant Leonardo, New Belgrade
- Reservations: 062/262-212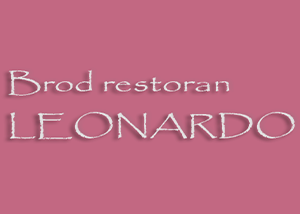 → ABOUT THE LEONARDO ABOVE

The ship restaurant Leonardo is located in the most beautiful place on the mouth, across from the monument to the Victor and Kalemegdan Fortress. The restaurant terrace offers beautiful views of the river and the city. He sailed here in the mid-1990s.
The vessel was renovated after 2006. The roof has been changed, the space is air-conditioned, a modern kitchen and a wood-fired pizza oven have been inserted, the interior has been tidied up, high-end sound system has been purchased (12 sound boxes distributed throughout the space + 2 subwoofers), a driveway with parking has been arranged.
The menu is homemade and everything is prepared in the restaurant, and it includes unlimited domestic and foreign drinks. Also, attention was paid to Mediterranean cuisine.
You can try it here:
Cold appetizers:

- Grilled pineapple ham,
- Shrimp avocado salad in ambassador sauce,
- Chicken rolls with asparagus in cheese sauce ...

Hot appetizers:

- Ravioli with salmon in champagne sauce,
- Tagliatelle in cream sauce with vegetables,
- Pancakes stuffed with prawns in saffron sauce ...

Meat dishes:

- Beefsteak in hot chocolate sauce,
- Turkey fillet in pistachio sauce
- Duck breast in raha sauce ...

Fish dishes:

- Smoked trout in almond sauce,
- Shellfish and crustaceans,
- Baked squid with basil ...

Attachments:

- Fried onion with aromatic herbs,
- Caramelized carrots,
- Stuffed artichoke ...

Desserts:

- Mona Lisa,
- Grilled banana in caramel sauce,
- Prunes ...
Of course, good food is always followed by good drinks. Along with the food on this raft there is a large selection of red, white, pink, sparkling and dessert wines from Serbia, Montenegro, Macedonia, France, Italy, Spain, Portugal, California. During the day, guests can enjoy a large selection of different coffees and cocktails, squeezed fruit, ice cream.
The service is top notch and professional by professional staff with knowledge of foreign languages.
The restaurant has a long tradition of organizing weddings, anniversaries and business events. The restaurant has a capacity of 250 seats up to a maximum of 300 seats.
The wedding celebration lasts 8 hours.
For the newlyweds, a boat trip to the wedding is organized as well as a gift sleep in the bride's suite.
→ BOOKING NOTES

Contact Leonardo raft for reservations:
062 / 262-212 (SMS, Viber, WhatsApp)
Online reservations for the Leonardo raft:
Yes, reservations are made directly through the website: www.kudaveceras.rs
→ ADDITIONAL INFORMATION
Parking:
Yes.
Credit Card Payment:
Yes. Leonardo receives Visa and Master card.

English language:
All the waiters and bartenders at Leonard speak English.

Similar places:
→ Leonardo raft reservations and information: 062 / 262-212
LEONARDO LOCATION

The Leonardo raft, 19th, is a place downstream of Branko's Bridge, in a series of rafts on the mouth. Before him, as the 18th raft is the raft of Shake n Shake and after him as the 20th raft is the raft of Chard Old Hut.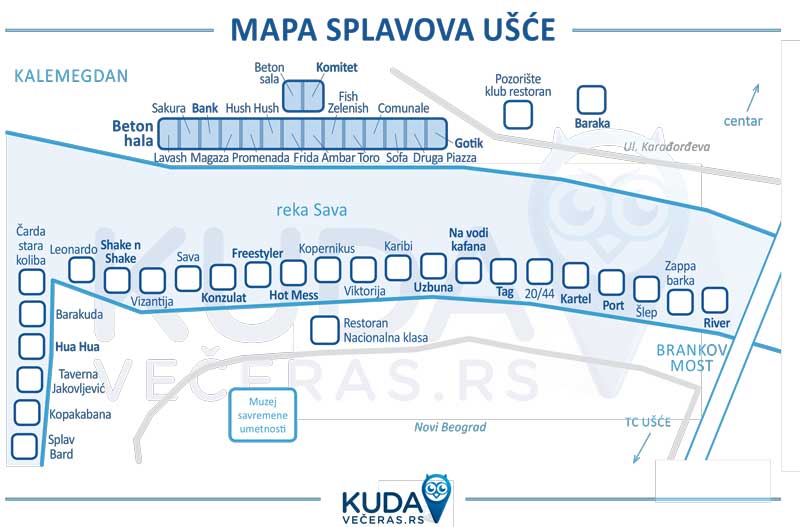 Gallery Ship restaurant Leonardo, New Belgrade
ADDRESS Ship restaurant Leonardo, New Belgrade
Srpska Nova Godina - Ship restaurant Leonardo, New Belgrade - Doček 2020
Muzika:
Piće:
Hrana:
Cena:
Kontakt:
Muzika Ship restaurant Leonardo, New Belgrade
Piće Ship restaurant Leonardo, New Belgrade
Hrana Ship restaurant Leonardo, New Belgrade
Cena Ship restaurant Leonardo, New Belgrade
Kontakt Ship restaurant Leonardo, New Belgrade
NOVA GODINA BEOGRAD - Ship restaurant Leonardo, New Belgrade - DOCEK NOVE 2020. GODINE
Ponuda za Novu godinu u ovom lokalu će uskoro biti objavljena.
Ako Vas odmah interesuju aktuelne ponude za doček Nove 2020 godine u Beogradu za kafane, restorane, klubove, splavove, hotele i event centre kliknite na link ovde .
Pozovite nas na 062-262-212 da vam predložimo najbolje ponude za docek Nove godine koje Beograd ima.
Call centar Kuda veceras servisa za rezervacije želi vam srećnu Novu 2020. godinu!

jedva cekam docek nove godine u beogradu na ovom slavu,svake godine je provod obecan