Splav Boem, Belgrade
- Reservations: 062/262-212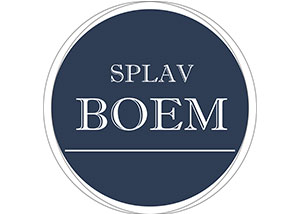 Booking: +381 62 262 212 (Whatsapp & Viber compatible)
The Sava river quay under the Branko Bridge is favorite address of many Belgrade party animals as well as the place where Boem River Club is situated. Its name (Bohemian) reveals the true character hidden inside and introduces you a genuine tavern atmosphere along with live music and drinks.
Boem River Club puts the others in the shade due to a specific mixture of modern and traditional interior design knowing that the plaid tablecloths make it integral part. A genuine tavern atmosphere, courteous staff, a wide selection of sumptuous food and beverages and tavern-style music will make climb on the table and dance with your friends.
Boem River Club is a place that gathers together people of different ages who are keen on chilling out and indulging themselves in the best music and drinks. This river club is open both in summer and winter season, it opens its door for the guests at 23h and parties continue until dawn.
Courteous staff, amazing interior, fantastic vibe and good drinks will make you be full of joys of spirit and you will easily make friends with the others.
Do not miss the chance to feel the real bohemian atmosphere listening to live music and sipping good quality drinks and… you never know, you might also meet someone special. Do not forget to book at: +381 62 262 212 (Whatsapp & Viber compatible)
Gallery Splav Boem, Belgrade
ADDRESS Splav Boem, Belgrade
Srpska Nova Godina - Splav Boem, Belgrade - Doček 2020
Muzika:
Piće:
Hrana:
Cena:
Kontakt:
Muzika Splav Boem, Belgrade
Piće Splav Boem, Belgrade
Hrana Splav Boem, Belgrade
Cena Splav Boem, Belgrade
Kontakt Splav Boem, Belgrade
NOVA GODINA BEOGRAD - Splav Boem, Belgrade - DOCEK NOVE 2020. GODINE
Ponuda za Novu godinu u ovom lokalu će uskoro biti objavljena.
Ako Vas odmah interesuju aktuelne ponude za doček Nove 2020 godine u Beogradu za kafane, restorane, klubove, splavove, hotele i event centre kliknite na link ovde .
Pozovite nas na 062-262-212 da vam predložimo najbolje ponude za docek Nove godine koje Beograd ima.
Call centar Kuda veceras servisa za rezervacije želi vam srećnu Novu 2020. godinu!

jedva cekam docek nove godine u beogradu na ovom slavu,svake godine je provod obecan

Baš lepo mesto! Uživao sam!

Samo da pocne nova sezona i bice ludnicaa

jako lep splav

jako lepo mesto,rado cu doci opet

Videcemo se opet sigurno.. sve pohvale za muziku i osoblje!

ja sam odusevljen ... vidmo se sledeci vikend

sve preporuke!

Splav nije los, ali ko hoce da se provede nije bitno gde je nego skim je...

Cim sam igrala na stolu znaci da je bilo odlicno.

Ja sam kafanski covek i tako sam se osecao kad sam otisao na ovaj splav. Lepo sam se proveo.

Zaista prelep splav sa puno kafanskih detalja i nezaobilaznim kariranim stolnjacima. Bilo je ljudi svih godina i zaista je bila lepa atmosfera.

Splav je cista 10

Bio sam sa devojkom, usluga i izvodjaci su na nivou. Sve su svemu bilo je lepo.

vrh mesto

Splav nije los, ali ko hoce da se provede nije bitno gde je nego skim je...

najvise mi se svidja odlicna atmosfera koja vlada, dobri izvodjaci i uvek nasmwjani konobari.

Lepo uredjen splav, usluga na nivou i sto je najvaznije gostuju dobri pevaci.

Ko voli dobar kafanski provod uz zivu svirku neka svrati ovde

Moj omiljeni splav u gradu, sve sto mi treba je tu...

Odlicno mesto za nocni izlazak, usluga na nivou, izvrsni izvodjaci i veliki izbor pica.

Najbolji provod u gradu zagarantovano!

Vrh provod!!!