Emporio River Club
- Reservations: 062/262-212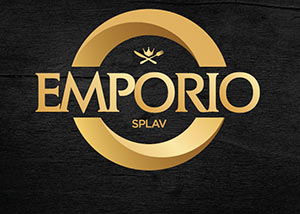 Emporio River Club is situated at the confluence of the Sava and Danube rivers, the most beautiful place in Belgrade with a breathtaking view of Kalemegdan Belgrade fortress. It is located on the quayside just a few steps from Ušće Shopping Mall what makes it the top place to relax after shopping. Emporio River Club has its own parking thus your ride will be in good hands.
During the day at Emporio River Club you can have a coffee with your friends as enjoying the breathtaking view and as dusk is falling, you will be enjoying the beauty of sunset, refreshing beverages and great atmosphere at the river. Our high quality food will make you some back to Emporio River Club again.
If you prefer wild river club parties though, Emporio River Club is the top place for clubbing as only the best singers are giving parties here.
We cordially advise you to visit us and check yourselves if the atmosphere at Emporio River Club is as good during the day as at night.
Booking: +381 62 262 212 (Whatsapp & Viber compatible)
Gallery Emporio River Club
ADDRESS Emporio River Club
Srpska Nova Godina - Emporio River Club - Doček 2020
Muzika:
Piće:
Hrana:
Cena:
Kontakt:
Muzika Emporio River Club
Piće Emporio River Club
Hrana Emporio River Club
Cena Emporio River Club
Kontakt Emporio River Club
NOVA GODINA BEOGRAD - Emporio River Club - DOCEK NOVE 2020. GODINE
Ponuda za Novu godinu u ovom lokalu će uskoro biti objavljena.
Ako Vas odmah interesuju aktuelne ponude za doček Nove 2020 godine u Beogradu za kafane, restorane, klubove, splavove, hotele i event centre kliknite na link ovde .
Pozovite nas na 062-262-212 da vam predložimo najbolje ponude za docek Nove godine koje Beograd ima.
Call centar Kuda veceras servisa za rezervacije želi vam srećnu Novu 2020. godinu!

Ja sam posle duzeg vremena bio u subotu imjedina zamerke mi je poneka konobarica(ne sve)JER NABIJU U ŠANK 10 LJUDIMKOJI NOSU RADNICI NI RADNICE I KAD JE KONACNO DOZOVES POSLE 10ĐIN,KAZE,POLAKO,VIDIS DA RADIM,GUZVA JE!,a obezbedjenje nisam primetio i jos su bili neobično mormalni i za svako pitanje ili problem su našli odmah odgovor ili rešenje! Obezbedjenje vraca ono ponašanje kakvo i treba da bude! Tu su a kao da nisu,pitas,ljubazno odgovore ali ne da caskaju sa tobom jer si drogiran utripovao da ste ortaci zato sto je bio kulturan i odgovorio ti na pitanje tako da ti je i pomogao ! SVE JE DO TEBE! AKO ŠIŠTIŠ I ON CE U NAJBOLJEM SLUCAJU,AKO TE NE IZBACE SVI! AKO SI NORMALAN PONASAS SE DOVOLJNO NORMALNO ZA KLUB I NE PRAVIS SRANJA NECES IH NI PRIMETITI OSIM AKO TEBI NE BUDU TREBALI! A NISAM RANIJE UOPŠTE OMAO OVAKVO MISLJENJE! DAKLE POHVALA ZA OBEZBEĐENJE A ZA SANKERICE-KONOBARICE,NEKE 1 ALI UGLAVNOM NEKA 3 JAČA!

jedva cekam docek nove godine u beogradu na ovom slavu,svake godine je provod obecan

e ljudi stvarno osbolje top mesto super unutra enterijer top

Osoblje ljubazno i bas prijatno mesto! Posetite

Je l se zna da li ovde mogu da organizujem 18. rodjendan?

Hrana je odlicna! Sve pohvale :)

ovde je lud provod zagarantovan! ;)

stvarno extra splav, jako mi je zai sto vise ne radi! sjani ste!

Splav Emporio je retko prijatno mesto sa dobrim vajbom za relax.

Moram da naglasim da je oso lje veoma ljubazno, ambijent predivan i kafa odlicna.

Veoma lep splav, a provod je bio jos lepsi.

Odlicno mesto za provod nocu

Posto radim u blizini cesto svracam ujutro na kafu i moram da kazem da sam zadovoljan kako uslugom tako i ambijentom.

Ovo je moj omiljen splav definitivno, tu sam upoznao i moju buducu zenu. Bila je to nezaboravna noc.

Ko zeli dobar provod vikendom onda je ovo pravo mesto za njega.

Vrh provod

Zaista lep i miran splav preko dana.

Posle vikend sopinga sa prijateljicama, svratili smo na splav Emporio i uz kaficu i prelep pogled uzivali na reci.

Zaista sam se lepo provela za vikend.