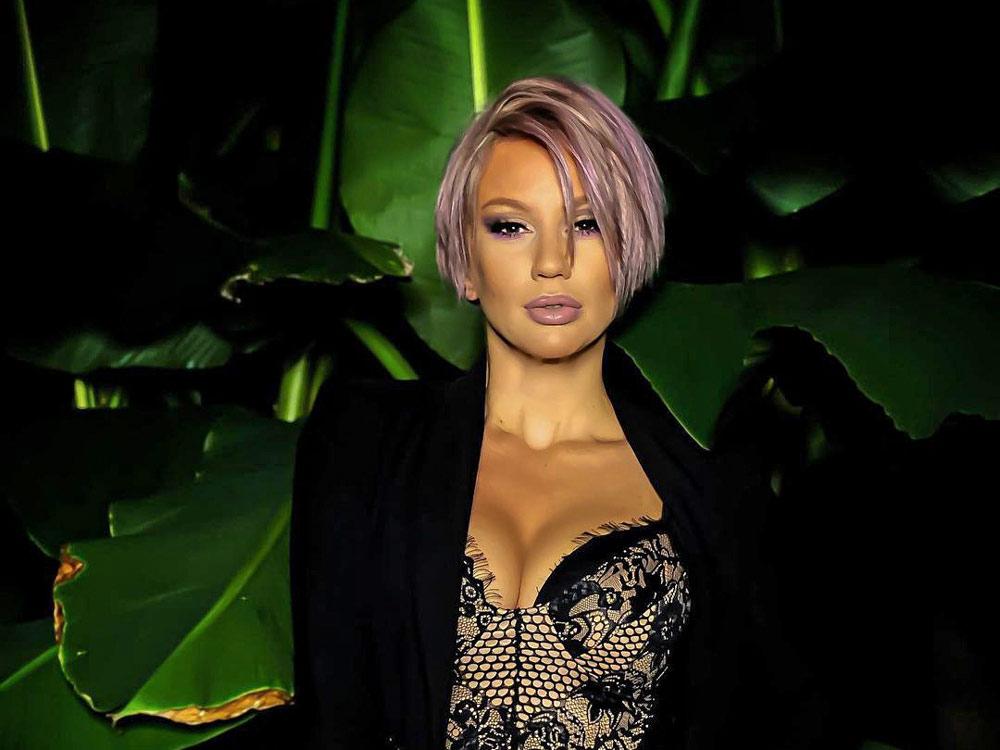 Ana Kokić jeste jedan od najvećih bisera na našoj estradi i tu ponosno stoji već više od jedne decenije. Izvanredne vokalne sposobnosti prožimale su se od muzičke grupe, "Ametist" , "Energija", pa sve preko neverovatnih muzičkih festivala širom Srbije.
ANA KOKIĆ BIOGRAFIJA
Ana Kokić je srpska pop-folk pevačica, ali i dizajnerka obuće. Rođena je 11. marta 1983. godine u Beogradu, prestonici u kojoj je odrasla i u kojoj danas živi. Svoje detinjstvo najviše je provodila sa roditeljima i sestrom Majom, ali pored njih i sa bakom Anom, po kojoj je ona i dobila ime.
Ana je od svog detinjstva imala afiniteta ka muzici i pevanju, te je svoju muzičku karijeru započela jako rano, sa nepunih 16 godina. O Aninoj svestranosti u muzici govori dosta toga, ali i činjenica da je ona dugo godina svirala klavir.
Ipak najlepša uloga koju Ana ima, jeste uloga majke, ima dve ćerkice, Ninu i Teu.
ANA KOKIĆ MUZIČKA KARIJERA
Priključila se muzičkoj grupi "Ametist" 1999. godine tokom čijeg postojanja su imali brojne nastupe od kojih su zasigurno najupečatljiviji u beogradskom Studentskom kulturnom centru. Ubrzo se situacija promenila, te se Ani ukazala prilika da upozna članove popularne grupe "Energija", Mileta Novkovića i Đorđa Anđelića, ali i postane deo iste. "Energija" jeste zasigurno bila jedna od najpopularnijih muzičkih grupa našeg regiona. Ogroman uspeh je postignut u tom period s obzirom da je Ana sa njima izdala tri muzička albuma pod imenom: "U pesku vremena", "Energija 5" i "Korak po korak". Njihova popularnost ogleda se u činjenici da su nastupali ne samo u Beogradu, već i širom regiona.
Splet okolnosti je doveo do pauze muzičke grupe i pripremanja daljeg materijala, pa je s toga Ana Kokić odlučila da svoju karijeru nastavi samostalno. Godinu dana nastupa i odličnog odziva kod publike dovelo je do njene prve pesme pod imenom "Samo mi javite". Publika je imala priliku da čuje tu pesmu prvi put 2004. godine na popularnom muzičkom takmičenju "Sunčane Skale" u Herceg Novom. Svima poznata pesma nastala je pravi hit pa je rado bila puštana na radio i tv stanicama.
Kvalitet koji Ana poseduje u punom sjaju bio je prikazan 2006. nakon saradnje sa Grand produkcijom. Prvi samostalni album ugledao je svetlost dana, "Mojne mala" napravio je pravi bum na našoj sceni. Istoimena pesma, kao i "Čujem da" i "Da li si to ti" pridobile su ogromne simpatije publike, pa je Ana dobila mnogobrojne nagrade te godine. Sjajna Ana je blistala te godine i dobila nagradu "Zlatna palma", "Beogradski pobednik", ali i "Oskar popularnosti".
Uspešna godina je nastavila u svom stilu, pa je Ana dobila priliku da bude model časopisa "Maxim" nakon čega je usledila nova pesma "Svejedno".
S obzirom na to, izazovi i uspesi su nastavili da se nižu, pa je novi album, drugi po redu pod nazivom "Šta će meni ime" objavljen. Ana je punom parom svake naredne godine nastavila sa radom, čiji plod je mnoštvo uspešnih saradni sa raznim umetnicima. Neki od muzičkih izvođača sa kojima je Ana sarađivala svakako jesu grupa "Blizanci", Miloš Roganović, Filip Miletić, Saša Kapor i drugi.
Treći album je usledio 2011. godine pod imenom "Idemo na sve", što dokazuje Aninu posvećenost i kvalitet koji nam prikazuje tokom svih godina. Fenomenalni video spotovi usledili su za numere sa tog albuma.
Dokaz da sposobnosti koje ona poseduje nisu samo muzičke, jeste pobeda u televizijskom takmičenju "Tvoje lice zvuči poznato" fenomenalnom transformacijom u poznatu pevačicu Pink. Nagrada prvoplasiranog takmičara kog je publika izabrala, jeste novčana, a Ana ju je u potpunosti donirala u humanitarne svrhe. Tokom takmičenja ona je imala izvedbe raznih izvođača, a jezici na kom je pevala pored maternjeg jesu engleski, italijanski i korejski.
Pesma koja se neverovatno proslavila 2014. godine jeste "Ljubav na papiru" kojom je nagradila svoje obožavaoce i publiku. Učestovala je u raznim projektima naredne godine od kojih je jedan od najzanimljivijih svakako pesma za film "Bićemo prvaci sveta".
Nove numere su se nizale, Ana je snimila pesmu "Šteta", a iste godine oprobala se u glumačkim vodama, te je bila deo pozorišne predstave "Čekajući ministra". Narednih godina Ana nastavlja da nas iznenađuje sa svojim neverovatnim pesmama u kojima rado uživamo.
ANA KOKIĆ PESME
Neke od Aninih najpopularnijih pesama:
KONTAKT
Nema potrebe dodatno naglašavati sve kvalitete neverovatne Ane Kokić, svi smo svesni njenih neverovatnih muzičkih sposobnosti. Ukoliko vam je potrebna neka dodatna informacija, na raspolaganju smo vam i to možete učiniti pozivom na broj: 062/262-212 (SMS, WhatsApp, Viber).