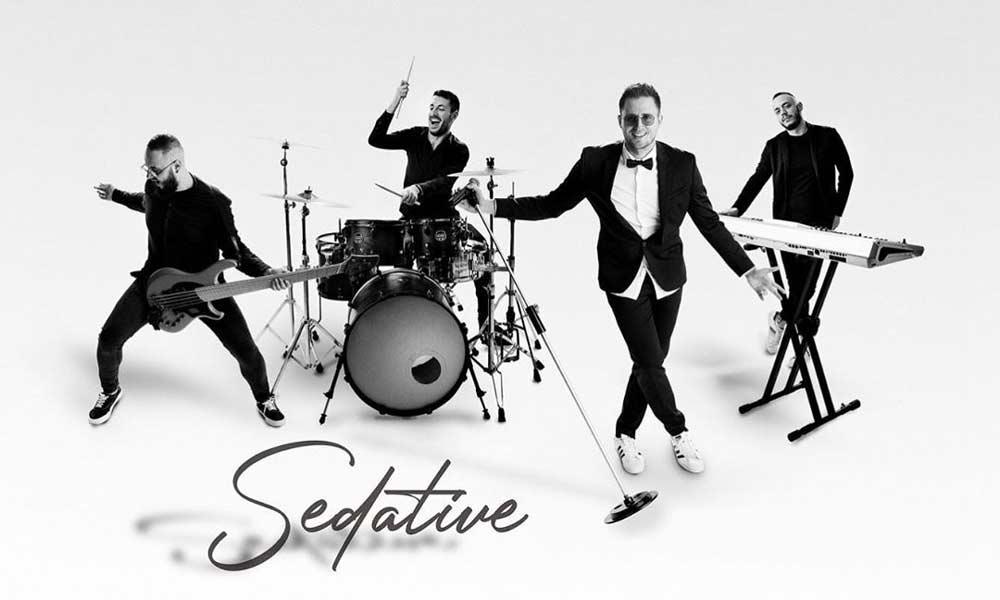 SEDATIV BEND BIOGRAFIJA
Sedativ bend je jedan od najmlađih bendova na domaćoj sceni i njihov bend broji šest članova. Bend je osnovan 12. oktobra 2012. godine na jugu Srbije tačnije bend potiče iz Leskovca.
Članovi benda su Ivan – pevač, Kristina Denić – pevačica, Vukašin – klavijatura, Nikola – bubanj, Aleksandar – bas gitara, Mladen – solo gitara.
Sedativ bend je vrlo tražen bend za svadbe i venčanja, kao i ostale privatne a i korporativne proslave. Prepoznatljivi su po profesionalnosti na svojim nastupima, takođe i po tome što na svakom njihovom nastupu atmosferu dovedu do vrhunca.
San ovog mladog i energičnog Sedativ benda je da predstavljaju Srbiju na takmičenju za pesmu Evrovizije gde učestvuje veliki broj izvođača iz raznih zemalja.
U dosadašnjoj karijeri izbacili su sedam pesama koje možete poslušati na njihovom YouTube kanalu.

Na linku ispod možete poslušati njihovu najpopularniju pesmu:
Najveća potražnja za bendom nastupa u maju, kada su najaktuelnije svadbe i venčanja. Ukoliko se odlučite da vas Sedativ bend zabavlja na vašoj privatnoj proslavi, bilo to da je svadba ili venčanje, najbolje to da učinite što ranije možete.
Ovaj bend je sarađuje sa poznatim kompozitorima i tekstopiscima, a neki od njih su Bane Opačić, Bane Vasić i mnogi drugi.
Ukoliko vas zanima ime benda na engleskom jeziku se piše Sedative Band.
SEDATIV BAND NASTUPI
Sedativ bend nastupaju u gotovo svim klubovima u Beogradu, neki od njih su:
Za doček Nove godine Sedativ bend je rezervisan za klub Komitet, gde se očekuje fantastičan nastup ovog energičnog benda.
SEDATIV BEND - PRIMER REPERTOARA U KLUBU KOMITET
1. Libero cela
2. Furaj mali cela
3. Ti mozes sve cela
4. Da l si ikada strof ref
5. Tanana steof ref
6. Potrazi me cela
7. Ko si ti cela
8. U ljubav vere nemam strof ref
9. Mjerkam te cela
10. Ako ima Boga strof ref
11. Ti si jedina od svih strof ref
12. Sve he na prodaju strof ref
13. Okano cela
14. Romale romali cela
15. Dani su bez broja strof ref
16. Kad si rekla da me volis cela
17. Telo vreteno cela
18. Nije monotonija strof ref
19.kremen strof ref x2
20.svi me zovu strof ref
21. A ti si dobro zdrav i ziv strof ref
22. Ova italijanska sa evrovizije strof ref
23. Plavi slon cela
24. Pesma od bola cela
25. Ko na grani jabuka strof ref
26. Samo ovu noc strof ref
27. Ja nemam vise razloga da zivim steof ref
28. Za ljiljanu strof ref steof ref
29. Varnice strof ref
30. Nije da nisi lep cela
31. Kad bi bio ranjen cela
32. Ti nikad neces biti kao moja mati ref strof
33. Ova nova od Isaka strof ref
34. Volis li me cela
35. Nevaljala celat
36. Jorgovani cela
KONTAKT

Ukoliko biste voleli da angažujete nekog dj-a, bend ili pevača iz naše ponude da vam peva na nekoj od vaših proslava, možete kontaktirati broj 062/262-212 (sms, Viber, WhatsApp)