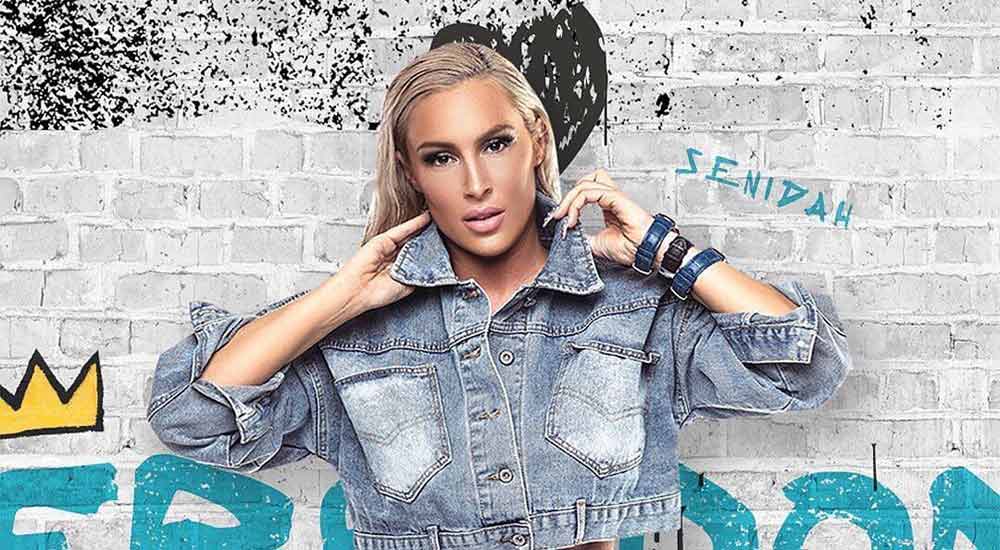 SENIDAH BIOGRAFIJA
Senida Hajdarpašić je slovenačka hip hop, rnb i trep pevačica poznatija pod umetničkim imenom Senidah koja je stekla veliku popularnost u zemljama bivše Jugoslavije. Senidah je rođena 9. aprila 1985. godine u Ljubljani, a muzikom je počela da se bavi 2010. godine kada je objavila svoju prvu singl pesmu pod nazivom Pustinjom. Nedugo nakon toga, Sedinah se priključila grupi MUFF sa kojima i dan danas ide na nastupe i snima pesme. 2012. godine je izbacila pesmu sa grupom MUFF pod nazivom Naj sije v očeh koja je bila proglašena za hit godine u Sloveniji.
Senidah je na srpsku scenu počela da se probija 2018. godine kada je zapravo počela saradnju sa beogradskom diskografskom kućom Bassivity Digital, a prvi singl u izdanju Basivitija bile je pesma Slađana, po kojoj je ova pevačica dobila najveću pažnju kako u Srbiji, tako i u regionu. Nakon što se pesma Slađana pokazala fantastično, sledeća pesma koju je objavila je Belo, pesma koja je takođe dobila veliku pažnju. Početkom septembra iste godine objavila je duet sa dobro poznatim Cobijem, pod nazivom 4 strane sveta, koji je sniman za potrebe filma Južni vetar. A pred kraj godine objavila je dva singla pod nazivom Bez tebe i Nisi bio tu.
Početkom 2019. godine na muzičkom festivalu MAC (Music Awards Ceremony) je osvojila nagradu sa pesmom Slađana koja je prema glasovima publike bila najbolja hip hop numera u 2018. godini. Krajem marta 2019. godine izbacila je prvu pesmu za strano tržište pod nazivom Ride, a nedugo zati je objavila i album Bez tebe.
Na našem portalu smo napisali i objavili nekoliko zanimljivih tekstova o atraktivnoj Senidah.
SENIDAH PESME

Senidah je u dosadašnjoj karijeri izbacila veliki broj pesama, od kojih su neki sa grupom Muff, neki su u duetu sa popularnim hip hop pevačima poput Jala Brat i Buba Coreli, Coby i Raf Camora. Neki od njenih najvećih hitova današnjice su duet sa Raf Camorom 100% i Kamikaza duet sa Jala Bratom i Bubom Coreli.
Spisak Senidah pesme koje je objavila i na YouTube ima najviše pregleda:
- Kamiakaza (Jala brat x Buba Corelli x Senidah)
- Mišići
- Slađana
- 100% (Duet sa Raf Camora)
- 4 strane sveta
- Belo
- Crno srce, i mnogi drugi.
Pesmu Senidah - Misici možete poslušati na linku ispod:
Senidah se izbacila još jednu pesmu koja teži da postane veliki hit, a pesma nosi naziv Samo uživaj i možete je poslušati na linku ispod:
SENIDAH NASTUPI
Nakon sticanja velike popularnosti u regionu, a i u Evropi, sa hitovima koji su se odlično pokazali, Senidah je počela da nastupa po beogradskim noćnim klubovima i splavovima, a neki od tih su klub Kasina, splav kartel, klub The Bank i mnogi drugi.
Ne smemo izostaviti ni to da je Senidah veoma tražena po Evropi, i da se njeni nastupi mogu slušati širom Nemačke, Švajcarske, Austrije i u ostalim zemljama Evrope.
Nastupala je na muzičkim festivalima poput EXIT – a u Novom Sadu i Sea Dance u Crnoj Gori zajedno sa članovima Bassivity izdavačke kuće Sarom Jo, Foksom, Surreal – om i drugi.
SENIDAH NOVA GODINA
Njen jedinstven glas i harizma, kao i velika popularnost, učinili su da Senidah bude jedan od najtraženijih izvođača za doček Nove godine u celom regionu.
Da li će Beograđani i gosti srpske prestonice imati priliku da u nastupajuću novu godinu uđu sa Senidah, proverite na Nova godina Beograd.