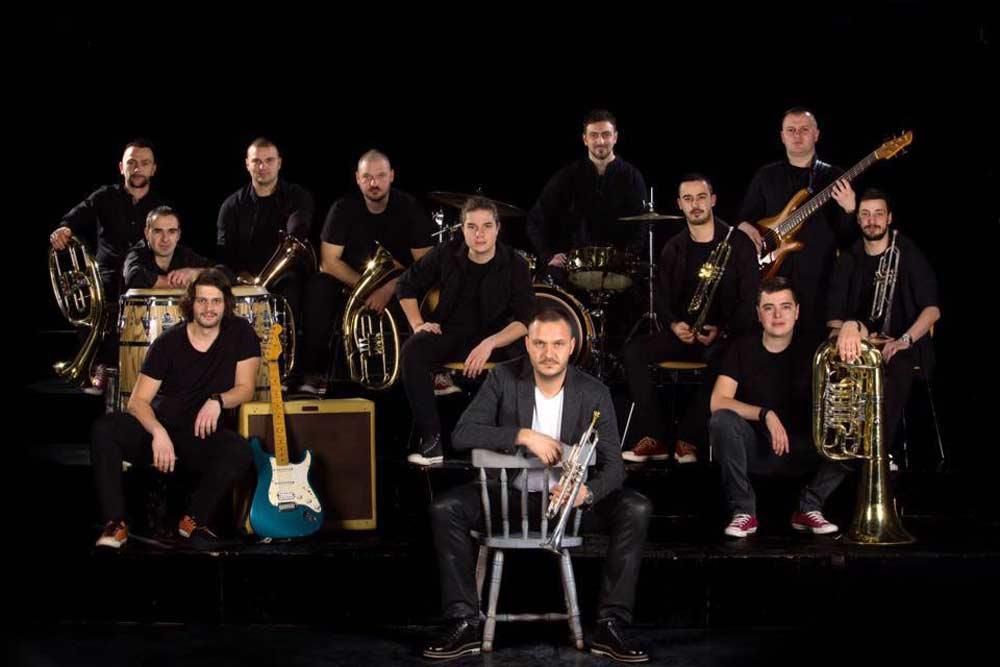 DEJAN PETROVIĆ BIG BAND BIOGRAFIJA
Početkom 2006. godine Dejan Petrović želi da započne nešto sasvim novo sa svojim orkestrom, sa kojim nastup od 2001. godine. Njegovom orkestru se priključuje klavijatura, bubanj, perkusije i ženski vokal, i sa novim instrumentima u orkestru potpuno menja koncept i započinje stvaranje potpuno novog zvuka, a ujedno to su i prvi koraci Big Benda. Sledeće godine, ekipi se priključuje gitara i muški vokal, a prvi veliki uspeh kao bend ostvarili su na Kustendorf festivalu u Drvengradu.
Nakon nastupa u Drvengradu, kreće veliki uspeh Dejana Petrovića i Big Benda, sada u svom orkestru ima i bas gitaru, a iza sebe ima brojne nastupe i šansu da osvoje publiku širom sveta, što su i učinili. Pošto su osvojili brojne nagrade koje su mogli da osvoje, Dejan sa orkestrom odlučuje da se povuče sa Sabora trubača, kako bi ustupili mesto mlađim orkestrima. Dejan Petrović i Big Bend postaju svetski poznati orkestar po izvođenju srpske tradicionalne muzike. Zahvaljujući koncepciji benda, tom njihovom spoju instrumenata, na repertoaru imaju i strane obrade internacionalnih pesama.



DISKOGRAFIJA DEJAN PETROVIĆ BIG BEND
U dosadašnjoj karijeri, izdali su 4 albuma. A to su:
Orkestar Dejana Petrovića
Ruža vetrova
Udahni duboko
Truba Libre
Njihovu najpoznatiju pesmu možete čuti na sledećem linku:
NASTUPI DEJAN PETROVIĆ BIG BEND
Dejan Petrović sa Big Band-om je učestvovao na skoro svim većim domaćim festivalima muzike, a Srbiju je predstavljao na raznim svetskim sajmovima, kulturnim događajima, festivalima i uvek sa velikim uspehom. Nastupali su u velikim svetskim gradovima kao što su London, Toronto, Torinu, Briselu, Pragu, Ljubljani i drugim gradovima. Najuspešniji koncerti bili su na festivalima Guča i Beer Fest u Srbiji.
KONTAKT
Ukoliko biste voleli da angažujete nekog dj-a, bend ili pevača iz naše ponude da vam peva na nekoj od vaših proslava, možete kontaktirati broj 062/262-212 (sms, Viber, WhatsApp)